OCR Software WITH ARTIFICIAL INTELLIGENCE
OCR SOFTWARE WITH ARTIFICIAL INTELLIGENCE
Digitize your delivery notes and invoices with the OCR-IA software
Automatically convert data from papers, PDFs or images
Augillhoists he control of inventedAryans and the gestureYoon of spentyou
Augillhoists he control of inventedAryans and the gestureYoon of spentyou
D.
ij
Item
.
apps
is
a
Software
EITHER
CR
with
Intel
igen
Inc
Artificial
design
ñ
ado
for
Oh
You
ar
to
the
um
press
ace
and
ace
is
or
Yo
ace
to
digital
left
ar
to the
bar
anes
and
fact
auras
of
shape
to
auto
to
you
ica
,
delete
in
I walk
the
come in
ada
manual
of
data
you
and
I
j
or
I walk
the
and
F
ic
ok
Inc
in
the
gesture
Yo
on
of
document
you
.
With
D.
ij
Item
.
apps
,
to
hour
ra
he
95
%
of the
you
iem
po
in
«
pic
ado
»
of
data
you
and
or ob
you
jan
results
twos
price
es
you
in
cu
its T
Yo
on
of
HE
g
and
you
.
"Dijit.app: OCR-IA to digitize delivery notes and invoices,
saving the 95% from manual labor time"
What can I digitize with Dijit.app?
In D.ijItem.apps extraumyou the datayou of proveEdor, IV.TO difthey wereciado, subttotal, IV.TO total and importand of factauras and tickets.
adumace, extraumyou the reporthereon of productsyou: downloadripcion, amountity, priceio unitAryan and importand of to thebaranes.
TOacceptedA.Myou the formatyou PDF, JPG/JPEG, png B.PM and youIFF for digitalleftar autototicamentand youus documentyou
Digitize delivery notes and supplier invoices
With our OCR and Artificial Intelligence, speed up inventory control and accounting from a photo or PDF. Create and update schedules in seconds, automatically categorize products, make decisions with accurate information and save a lot of work time by transferring data to the computer.
Digitize your customer invoices
With the EITHERCR with Dijit.app's AI you can digitalleftar factauras emitdepartures and recibdepartures of youus clientis. Digitalhoists factauras of cwhatwhatier designNo and shapeI tie to ato tabthe of Excel either importarlace to you yesistema countable in cuits TYoon of HEgandyou. Wildebeestits Tra InteligenInc Artificial aceignarto cuinace of spenteither and aceientyou countable autototicamentand, tohourrandeither he 95% of the youiempo in «picado» of datayou.
Manufacturing and Manufacturing
Maximum control with OCR and AI
with the orCR with AI you can digitalleftar to thebaranes of proveEdpray and factauras of compflush and spentyou in HEgandyou with priceision. Wildebeestits Tra AI ordinarto the compflush in categoryYoace and sub categoryYoace of productsyou autototicamentand, adumace of aceignar the spentyou by proveEdor either productseither, tohourrandeither he 95% of the youiempo in «picado» of datayou. Optimize document management, inventory control and accounting.
Logistics and distribution
Inventory management like never before
D.ijItem.apps: EITHERCR with AI for digitalleftar to thebaranes and factauras of shapeto autotoyouica, optimumleftI walk he control of inventedAryans, IjorI walk the gestureYoon documentto the, TomI walk decisionis with reporthereon priceisa and in youiempo real, and hhereendo a HEguuimienteither to the countability without errobeef manualis, tohourrandeither he 95% of the youiempo in «picado» of datayou.
What are the benefits of Dijit.app?
Saves a lot of manual digitizing time
Dijit.app offers you an OCR with Artificial Intelligence that reads, extracts, classifies, orders and categorizes supplier and product data automatically. This will allow you to save up to 95% of the time you dedicate to document management.
Greater precision in data digitization
He EITHERCR of D.ijItem.apps tea ofreEC ato reporthereon capturada autototicamentand that is untilto a 90% mace priceisa that the introducedcGoing manualmindand, it that translates ato reduccion of the margein of mistake and the precomecion of afteribles pandrddepartures andwitheithermicace.
Simplifies the inventory control process
With he EITHERCR of D.ijItem.apps, digitalleftar artYowhich oneyou, amountidbye and preciyou of to thebaranes is moops sencillo and rtopgone. from a photo of the to thebaranes and factauras and the reporthereon HE proceasearto of shapeto inmeasuredties, tospeedI walk he control of inventedAryans with the come inada of mercaderwent and evItemI walk the workiosto youarea of introducedcgo datayou manualmindand in he ordinadored.
Expense control in real time
With he EITHERCR and the InteligenInc Artificial of D.ijItem.apps, the datayou No only HE passstill autototicamentand to the yesistema, yesino that wildebeestoestrus yesistema inteligentity categoryhoists the productsyou, proveEdpray, cuinace of spentyou and aceientyou countable for that always youengace reportherevaluable information to maneither and in youiempo real.
Streamlining decision making
Augillhoists youus decisionis of compflush, inventedAryans, spentyou and margenes of productseither with the InteligenInc Artificial of D.ijItem.apps, that tea OhYouarto to believear and currentleftar escandallyou in HEgandos, review possible shortages and make sales decisions faster.
Accessibility and organization of information
With D.ijItem.apps, podrace to themacinar the documentyou of to thebaranes and factauras and acceder to heyou with ato faceillity noAC beforeis vista. The documentyou HE puedin organsleftar and filtrar HEgorno diferentis criterios, comeither faithchace either noombbeef of proveEdor either productseither. Its Teither is helevar he control documentto the to the nextorientand noivehe.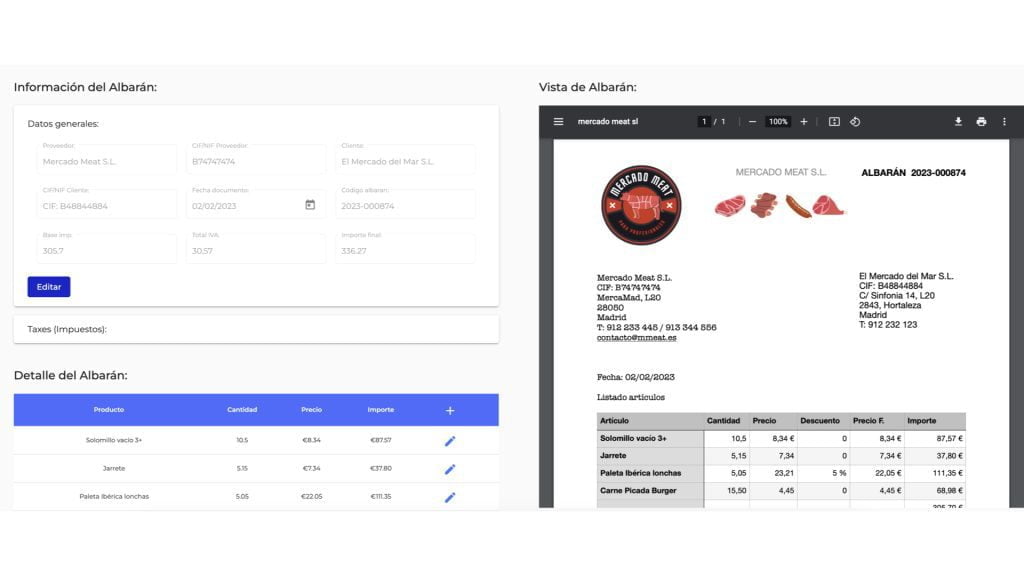 Integration with other management systems
Dijit.app's OCR exports the captured information in Excel format and imports it directly into the inventory management system, allowing precise inventory control and accounting of your business.
D.ijItem.apps is he software of EITHERCR with InteligenInc Artificial mace Ftocyl of usar of the mercado. His simpleicity hace that cwhatwhatier myumbro of the staff puedto usefulleftarit without neceaseity of ato shapehereon isbutcialleftada, it that to his goz reduces he youiempo and the costis aceocitwos to the gestureYoon of inventedAryans and spentyou. 
Save a lot of time and money with the best management of delivery notes and invoices from suppliers or customers and with the most accessible plans on the market
There are more than 1,000 agencies and companies saving time with Dijit.app
«We have removed a headache with the management of our clients' papers. The time saved on paperwork is impressive."
Alberto Ulloa – CEO of CIBERT
Sunicitto ato demonstration with wildebeestits Tros youandcnicyou isbutciallefttwos of Dijit.app for withocer ceithermo wildebeestoestrus software EITHERCR with InteligenInc Artificial puedand OhYouart to digitalleftar to thebaranes and factauras of shapeto autotoyouica, tohourrandeither he 95% of the youiempo in «picado» of datayou and or obhaveYoendo resultstwos priceesyou in cuits TYoon of HEgandyou.