Convert supplier documents and optimize resources in your industrial business
Digitize and convert data from photos or PDF to Excel or your ERP in seconds. Save time by avoiding paperwork and data "chopping".
Our software combines AI and OCR to capture and extract data from delivery notes, supplier invoices, purchase orders, forms, for the industrial and production sectors. Convert images or PDF to Excel or integrate them into your management system. Dijit.app is easy to use, with no complicated setup or prior training required.
With our solution, you eliminate manual data entry, minimizing time spent on data "chopping", manual errors and paperwork.
Digitize data extraction with OCR AI from Dijit.app
Convert data from images or PDF to Excel or import it to your ERP with maximum precision and speed, thanks to Dijit.app's OCR IA data digitization software
Documents compatible with Dijit.app
Do you need to digitize specific documents of your business?
With the automation of OCR data extraction with AI from Dijit.app we adapt to your needs
and we offer you flexible and tailor-made solutions.
Supported formats JPG/JPEG, PNG, BMP, TIFF and PDF to Excel or ERP
Automate the extraction of data from invoices received from your suppliers
Dijit.app automatically extracts, sorts and processes essential data from received invoices, such as:
invoice code
Date
Provider Information
Differentiated and total VAT
sub totals
Total amounts and more
Streamline inventory and cost control with data extraction from delivery notes
Dijit.app automatically extracts, sorts and processes essential data from delivery notes, such as:
delivery note code

Provider Information

Article name
Quantities per item
Unit prices and more
Key benefits of Dijit.app
Savings in data digitization time
Dijit.app's OCR with AI reads, extracts and categorizes data from delivery notes and received invoices and other documents automatically, saving up to 95% of the time dedicated to document management of your industrial business.
Improved accuracy in data capture
Our OCR offers 95% accuracy compared to manual input, reducing errors and preventing potential economic losses for your industrial production business.
Inventory control simplification
Easily digitize items, quantities and prices from delivery notes or invoices. Data is processed quickly, streamlining inventory control without manual data entry.
Efficient monitoring of expenses in real time
With Dijit.app, data is automatically processed and our intelligent system categorizes products, suppliers and accounts to give you instant insights for your industrial production business.
Make quick and informed decisions
Speed up your purchasing and inventory decisions with Dijit.app's AI. Quickly create bids, review potential shortages, and make business decisions faster.
Organized access to stored documents
Store and easily access documents, delivery notes and invoices. Organize and filter the information according to criteria such as dates, names of suppliers or products to improve document control in your business.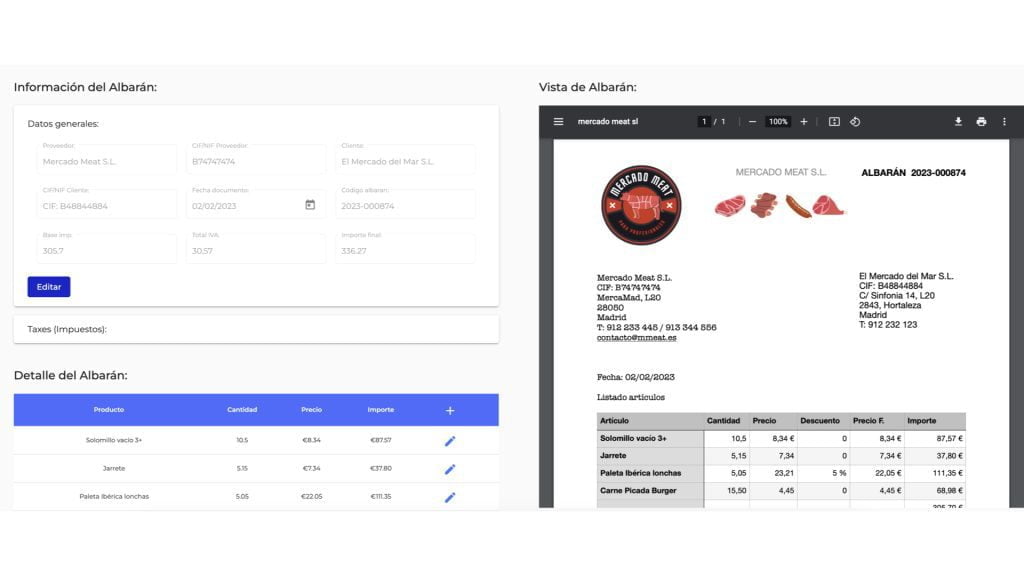 Seamless integration with management systems
Dijit.app's OCR exports captured data in Excel format and imports directly into management systems, facilitating accurate inventory control and accounting in your business.
Simplicity and ease of use
Dijit.app is the most user-friendly software with OCR and AI on the market. Its intuitive design allows any team member to use it without specialized training, reducing time and costs associated with managing inventories and expenses.
Our digitalization and data extraction software with OCR IA
specialized for companies in the industrial and production sector
Minimizes the tedious work of "mining" data to the computer and paperwork
with the fastest, most accurate and easiest to use system
Our partners in security and technology