OCR program for logistics
Online OCR to digitize data from invoices, delivery notes and forms
Capture data from photos or PDF to Excel or integrate it with your management system in seconds. Optimize your logistics and transportation business with the #1 OCR program.
Discover the Dijit.app OCR program
Our artificial intelligence OCR program captures data from delivery notes, invoices and supplier forms for logistics and transportation businesses. Convert images or PDF to Excel or integrate them into your management system (ERP) in seconds. Dijit.app is easy to use, with no complicated setup or prior training required.
With our solution, you eliminate manual data entry, minimizing time spent on data "chopping", manual errors and paperwork.
Digitize data extraction and optimize document management with Dijit.app's OCR IA
Documents compatible with Dijit.app
Do you need to digitize specific documents of your business?
With the automation of OCR data extraction with AI from Dijit.app we adapt to your needs
and we offer you flexible and tailor-made solutions.
Supported formats JPG/JPEG, PNG, BMP, TIFF and PDF to Excel or ERP
Why digitize delivery notes and supplier invoices with Dijit.app?
Accurately digitize the extraction of invoices for purchases and expenses
Dijit.app's advanced artificial intelligence OCR software allows you to extract detailed information from received invoices, including relevant supplier data, in a matter of seconds.
Extract the data of products and suppliers from delivery notes
Extract detailed information from delivery or receipt notes, including relevant supplier data, list of products, quantities, unit prices, amounts, in a matter of seconds and with maximum precision.
Simplify your inventory management
Thanks to OCR-IA technology, it is enough to photograph the delivery notes to obtain the merchandise entry data in seconds. Thus, you can easily import them into your management system, saving time and focusing on your business.
Simplifies the management of expenses and purchases
Dijit.app simplifies the digitization of delivery notes and invoice data, avoiding manual entry and paperwork. Our intelligent program uses OCR to extract accurate data and the AI automatically categorizes and assigns it. In seconds, you will have all the information classified by supplier, product and expense or accounting account.
Create and update fixtures in seconds
Deal management is easier than ever with our artificial intelligence and OCR technology. Import your ingredients to create price tags and the system will automatically update the prices when processing delivery notes. Thus, you can control your margins in seconds.
Greater precision in data digitization
The information captured by the OCR automatically is 98% more accurate than the information entered manually, which reduces the margin of error and avoids possible economic losses.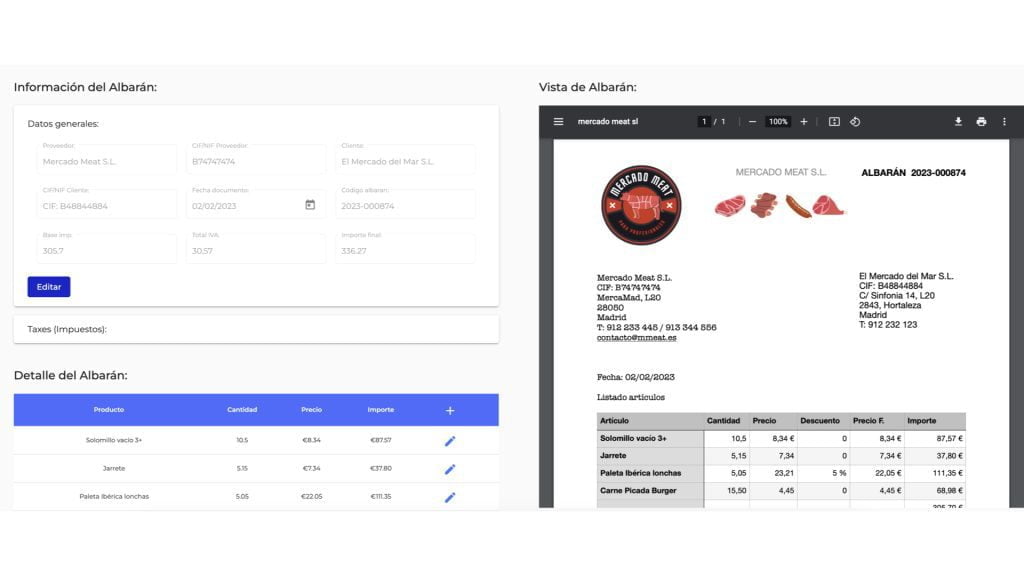 Streamline decision making
With Dijit.app you will be able to speed up decision-making, keep track of expenses up to date and detect deviations in inventory or costs to take quick action.
Organize your documents efficiently
You can view the scanned documents with just one click. You will be able to carry out efficient searches with filters according to the date, the name of the supplier, the name of the article or product and much more, thanks to Dijit.app
Integration of information in the management system
The Dijit.app software extracts and processes the data, exporting the information in Excel format or importing it directly into the inventory management system. Thus, you will be able to precisely control the levels of stock, purchases, expenses and the accounting of your business.
The ease of use of Dijit.app OCR allows any member of your team to use it without requiring specialized or complex training, thus reducing time and personnel costs.
Our digitization and data extraction program with OCR IA
specialized for logistics and transport companies
Minimizes the tedious work of "mining" data to the computer and paperwork
with the fastest, most accurate and easiest to use system
Our partners in security and technology