SOFTWARE OCR ONLINE #1 PARA EMPRESAS
Procesa datos sin esfuerzo
Digitize and capture information from all your documents
Quickly convert documents, images and PDF to Excel or ERP
Solución integral para la gestión de datos y documentos en una aplicación
Procesamiento inteligente con IA de OpenAI (Chat-gpt)
Nuestra avanzada tecnología de OCR y la Inteligencia Artificial de los creadores de Chat-gpt mejora el procesamiento, la precisión y la categorización de datos para agilizar la gestión documental.
Aprendizaje automatizado y preciso
Nuestro software posee la habilidad de aprender de forma rápida y en tiempo real a partir de los datos editados, mejorando con cada uso.
Compatible con todos los documentos empresariales
Digitaliza una gran cantidad de documentos y Optimiza la gestión de datos con nuestro software OCR online inteligente. 
Compatible con todos los formatos
Nuestro software OCR online con es compatible con imágenes y PDF para capturar y transformar gran cantidad de información a la vez, ya sea de documentos impresos o escritos a mano.
Almacenamiento eficiente de documentos
Con nuestro software OCR online, Dijit.app, almacena, accede y filtra eficientemente tus documentos. Olvídate del papeleo y prepárate para futuras auditorías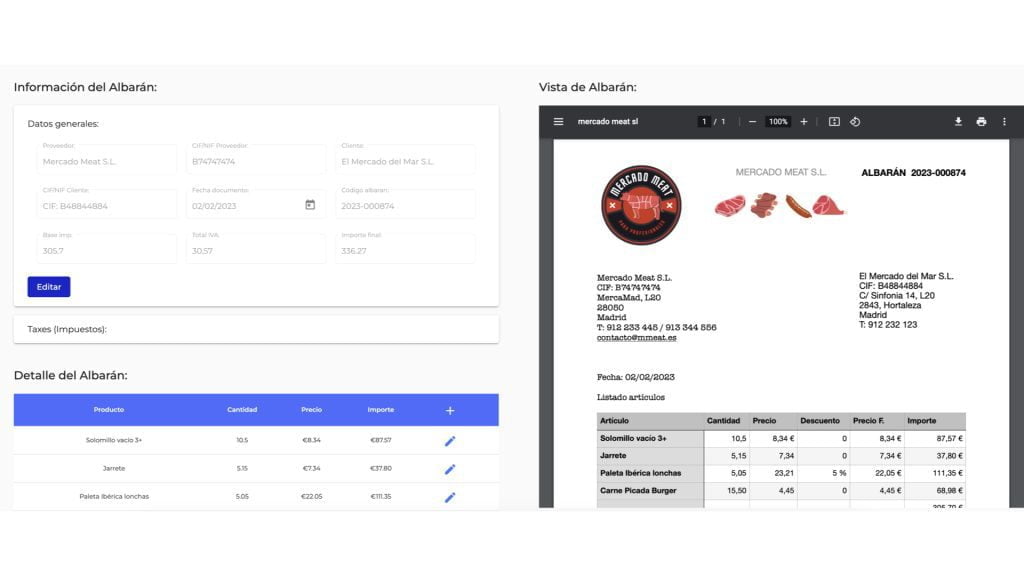 Nuestro software OCR online con IA extrae y clasifica información fiscal e IVAs, facilitando la compartición rápida y sencilla de datos con tu contable
Gestión ágil de inventarios
Nuestro innovador sistema que procesa automáticamente los datos de productos y cantidades a partir de fotos de etiquetas o códigos de barras.
Eliminate paperwork and facilitate document management with Dijit.app by creating unlimited users for your establishments, delegations or clients of your accounting consultancy.
Reportes analíticos, olvídate de ficheros Excel
Rastrea compras y gastos, controla inventarios y sincroniza tu POS con Dijit.app para una pre-contabilidad clara. Descubre la digitalización eficiente de datos empresariales
Our OCR software with AI allows you to easily integrate the information into your ERP management system through the API SDK.
Garantiza la seguridad y privacidad de tu información en la nube de nuestro partner Microsoft AI Cloud. Mantén la información de tu negocio visible solo para ti y los usuarios autorizados.
Soporte informático efectivo
Our support team is always available to attend to your needs and ensure a smooth experience with Dijit.app.
Transformamos la gestión documental empresarial con nuestro software OCR con IA. Automatizamos la digitalización de datos para mejorar eficiencia y precisión, ahorrando tiempo y recursos valiosos para que te centres en el crecimiento de tu negocio.
Nuestro software OCR online con IA transforma la gestión de datos empresariales, reemplazando el tedioso 'picado de datos', el papeleo y la entrada manual en tu ERP. 
Simplemente toma una foto o arrastra la imagen o PDF a Dijit.app y nuestro sistema captura y procesa todos los datos necesarios en segundos.
Gestiona cientos o miles de documentos a la vez, que se organizan automáticamente por tipo. Nuestro equipo de soporte personaliza la digitalización para documentos específicos de tu negocio o sector. 
Tus documentos se almacenan el tiempo que necesites y puedes editar los datos visualizando el documento en vivo. 
Con usuarios ilimitados, puedes dar acceso a tu equipo o a tus clientes si eres asesor fiscal, evitando el traslado de papeleo físico. 
Nuestro soporte técnico rápido y sistema de aprendizaje automatizado hacen de Dijit.app tu mejor aliado en la gestión documental y la solución de software OCR con IA más eficiente. 
Contacta a nuestro equipo de soporte para una demostración en vivo y optimiza tu negocio con Dijit.app, el software OCR online con IA para empresas líder en el mercado.